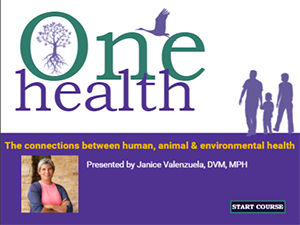 Presenter: Janice Valenzuela, DVM, MPH,  
Population Health Service Fellow, University of Wisconsin-Madison 
Summary:  
We live and work in an increasingly interconnected and complex world. In public health, we recognize the influence of various social determinants on health, we talk about incorporating health in all policies and we value inter-professional team approaches to care. No one group has the knowledge or the resources to address the "wicked" problems facing our planet today.   
One Health recognizes the connections between the health of humans, animals and the environment; promotes more fully collaborative ways of thinking about problems and their solutions and allows us to take a more integrated systems-based approach to achieving health for all. 
 
Learning Objectives: 
After completing this module, you will be able to: 
Define One Health; 

Recognize the full spectrum of One Health and the value of using a One Health approach in dealing with public health issues; 

Recognize key players in One Health both locally and abroad; 

Identify local examples of One Health, and 

Connect to resources to help you incorporate One Health in your own work. 
Duration – about 20 minutes 
---
References and Additional Resources
Note: these resources are organized in the same order that information is presented in the online module.  
One Health: General Resources 
Definitions – What is One Health?  
History of One Health
Where One Health Applies
1. Zoonotic & Vector-Borne Diseases  
Salmonella 
Monkeypox 
Rabies 
Ticks 
Wisconsin Department of Health Services:  
2. Antimicrobial Resistance 
3. Comparative Medicine  
4. Environmental Health 
5. Human-Animal Bond 
6. The One Health Umbrella  
One Health: Global to Local
International 
National 
Regional 
Wisconsin 
One Health in Public Health